Introducing Gregg Ka-Zam, one of Dallas' best childrens magicians.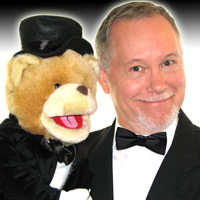 Gregg Ka-Zam also known as Gregg the Magic Balloon Guy, is one of Dallas' most talented children's entertainer. Gregg has recently added Bruno the Magic Bear to his hilarious Dallas area magic show for kids.
Gregg is currently performing nearly 500 shows a year, and a large percentage are repeat customers. He has a reputation for being a hit at childrens parties and is in high demand in the Dallas area.
Based out of McKinney, Gregg performs all over the Dallas Metroplex, including Frisco, Anna, Celina, Dallas, Irving, Coppell, Garland, Mesquite, Allen, Plano, Denton, Wylie, Lewisville, Southlake, and more.
Gregg is a favorite for childrens party entertainment.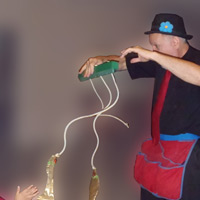 Gregg's magic show is family friendly and no one is made fun of (except Gregg), and the kids will be laughing almost the entire time.
Taking on the stage name "Gregg Ka-Zam", is reflective of the rising popularity of the smash hit magic show. Gregg will still make balloons for your party, in addition to the magic show, and is one of the best and fastest balloon artists around.
Gregg can also add a spiritual theme to his magic show and has performed at Church functions across the Dallas area. Having done mission work in a number of countries, Gregg is very respectful of other's beliefs and is a favorite in Dallas area mosques as well.