Google+
Magic Show, Balloon Twisting, Balloon Art, and Face Painting. If you are looking for a five star show for your Birthday Party or event, you have come to the best place! North Dallas' best new entertainment! Check out our reviews!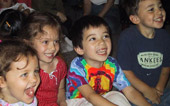 Welcome to Gregg the Balloon Guy, the best birthday party magician in Dallas!
Gregg's hilarious magic show and top notch balloon twisting for kids, along with Peggy's the Face Painter's fantastic face painting, combine to give you the best birthday party entertainers in the Dallas area. Gregg has delighted children in 6 countries around the world as a magician and balloon twisting entertainer; from royalty to orphans and on national television. The funniest kid's magician in the Dallas area.
The Magic Show
Gregg's magic show has received all 5 star reviews and he was named the #1 top rated entertainer in Dallas. The show is a favorite at Birthday Parties, Schools, Day Cares, Libraries, Churches, Mosques, Synagogues, company events, weddings, or any other party or event where there are kids. The show is aimed at kids but it can keep a group of teenagers amazed and adults love it too. As a magician, Gregg's style is not the small card trick type, but showier tricks that are quite visual and amazing. Half the fun is the stories that Gregg weaves into the magic show and the good moral lessons he brings out. You and your kids are guaranteed to love it. Gregg KaZam Dallas kids magician
MORE INFO
Balloon Twisting
Gregg's balloon animals are the cutest around. Gregg was the first ever balloon twister at Hello Kitty Land in Japan for 3 consecutive years. He can handle a large number of kids by twisting at lightning speed. Gregg doesn't just sit in a corner, but interacts with the kids and if the party is outside, Gregg takes the twisting to them.
MORE INFO
Face Painting
Peggy the Face Painter (Gregg's lovely wife) is the perfect addition to your party. Peggy can handle small or large crowds with cheek painting or full face painting. We give a special discount when you book both entertainers. Please see our Gallery page for face painting samples.
MORE INFO